100 BKW Award
Hallo hallo. Hier ist Königs Wusterhausen auf der Welle 2700
With these words and a subsequent Christmas concert began on December 22, 1920 the transmitter
Station Königs Wusterhausen his first public broadcasting. A milestone in the emergence of
German broadcasting history.
Further information at 100jahrerundfunk.de/.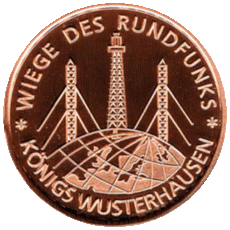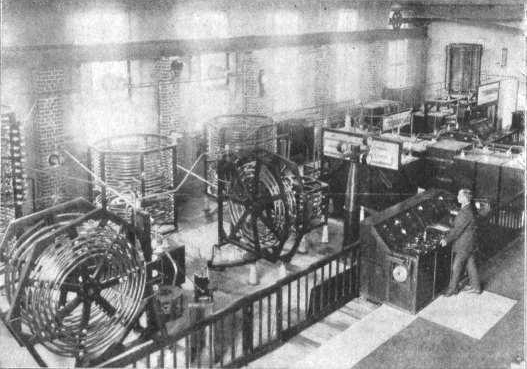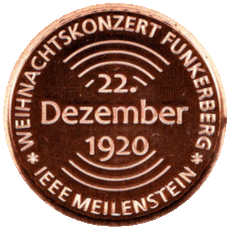 ---
On the occasion of the 100th anniversary OV Königs Wusterhausen, DOK Y07 in DARCe.V. present the
100 Jahre Broadcast Königs Wusterhausen Award
in 3 classes.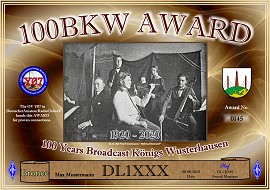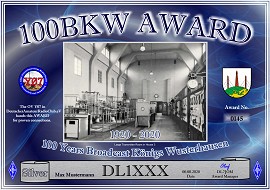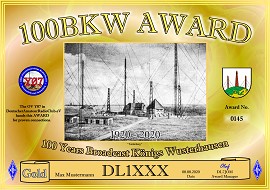 ---
Award Invitation
Period
Jan 01. 2020 — Dec 31. 2020
Rating
All stations from DOK Y07 are scored, no matter if stationary, / p, / m. per band and mode only once.
SWL stations at the same conditions with logbook extract.
Example
for DL100BKW
1×40m SSB = 15 pts, 1×40m CW=15 pts, 1×40m RTTY=15 pts, 1×40m FT8= 15 pts. (total 60 pts) etc.
This applies to every band.
3 Classes
Gold for 100 points, Silver for 75 points and Bronze for 50 points
Points

15 points DL100BKW (a QSO with this station is mandatory)
15 points DL0KWH and DK1A contest station
10 points OV Y07 stations from Königs Wusterhausen
5 points OV Y07 stations outside Königs Wusterhausen

Application

Log extract with own call and name goes to:

Diplommanager DL7JOM(at)darc.de

These Awards are for free and sendet in PDF File.

A printed award version costs 7€.
To send the award we need your call, name and address!
Station list
15 points
DK1A, DL0KWH and DL100BKW
10 points
DF4LB, DG1RWM, DH1RSP, DH2AX, DH5RWK, DH7BWM, DH7FA, DH7NO, DL1RTA, DL1RTS
DL1RTW, DL1RUM, DL1RWR, DL2RTF, DM3MAT, DO2NBR and DO9JK
5 points
DB3TF, DD6UAF, DD6ZP, DF1YQ, DF2VD, DG1RPH, DG1RVO, DG2RSJ, DH1LA, DJ8RH,
DL1ROT, DL1ROY, DL1RYB, DL2RNO, DL2RNS, DL2RUF, DL2RUM, DL2RVL, DL4KA, DL7JOM,
DL7JTT, DL7UKT, DL7UMK, DL7VGH, DL7VOR, DM2HK, DM2SO and DM2XO
A list of all current award holders can be found here.