German Lighthouse Award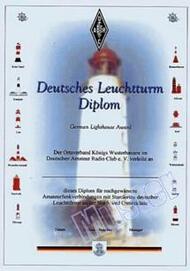 The DARC e.V. Ortsverband (section) Königs Wusterhausen (DOK Y07) issues this award to licenced amateur radio operators and short wave listeners for contacts after the 1st of January 2001.
Conditions
The applicant must have been made all contacts from the same DXCC- country. A change of location (QTH) is approved (/am, /p, /mm, /m). The award is not limited to any band or mode.
The applicant needs contacts with different lighthouses according to the attached listing of German Lighthouses. Each lighthouse counts one point. QSL-cards with different lighthouse pictures or photos can be used two times as a so called Joker instead of a lighthouse-contact. Each Joker counts one point. The QTH of the lighthouse-station must be clearly identified on the QSL-card (name of the lighthouse or lighthouse name and/or number according to the LH-list). For application the following points are needed:
| | |
| --- | --- |
| DX-stations | 4 points |
| EU-stations | 6 points |
| DL-stations | 7 points |
The lighthouses must be confirmed by QSL card. These cards can be requested by the Award Manager. Lighthouse QSL cards with a LH picture or photo used as a Joker can be requested by the Award Manger, must be described in the application an can be optional attached to the application (will be returned with the award).
Stations activating a LH must be operating from the lighthouse building itself, from an adjacent building belonging to the LH , the dock of the LH or within a maximum distance of 500 metres land based to the Lighthouse. Reports about activities from lighthouses to the Award Committee are welcome and should include QTH, dates of activation and name of the lighthouse. Lighthouse stations can receive the award for working at least 100 different stations
Application
If requested and proofed the award can be issued for a certain mode exclusively. The application for the award should be sent with a confirmed list of QSL cards (GCR Liste) and including the fee of US $ 8.- or EURO (€) 7.- to the following address:
Detlev Hoepner, DL1RTW
Am Krebssee 11,
D-15711 Königs Wusterhausen
Germany
Information about the award can be obtained sending a SASE letter to the Award Manager mentioned above. The award is 210 × 297 mm and printed on 250g/qm paper showing a coloured Lighthouse flanked by 6 german lighthouses on each side.
Reference Lists